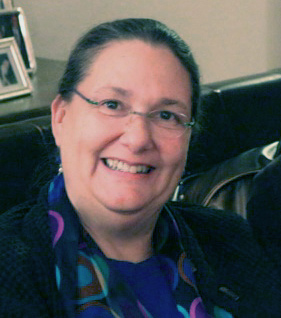 Polly Castor
FORUM ON FAITH
Why Christian Science got into journalism.
by Polly Castor
Published: January 21, 2017
Danbury News Times
With the presidential inauguration Friday and the Million Woman March on Washington Saturday, I think it is a good time to stop and reflect on the source of government and power.
From a human perspective, this has been a contentious political season, with people on both sides expressing deep dissatisfaction, genuine concerns, and visceral opinions. Egos have flared, and behavior has not always been exemplary.
It is easy to get discouraged about our national state of affairs, but remembering that God has a clear, macro perspective helps me trust that there are perfectly acceptable solutions I can't see or imagine. Through it all, Christian Science encourages me to look away from human strife and controversy to see what God, the one divine Mind, is doing, instead of getting too mesmerized with what many diverging minds are insisting about a subject.
However, knowing that the "government is upon His shoulder," as the Bible states it, does not release any one of us from carrying out our own pragmatic responsibility for making our world a better place. I believe that as God impels each one of us, both separately and collectively, to do the right thing and be our best selves, the world improves in proportion to our obedience and fidelity.
More than 100 years ago, the founder of Christian Science, Mary Baker Eddy, at the age of 87, listened deeply to God, and was impelled to start a daily international newspaper in response to what was called the 'yellow journalism" of her day. The papers then were making money sensationalizing the news, appealing to mankind's lowest inclinations, for the purposes of profit. The adage, 'If it bleeds, it leads,' determined what would be headlined.
She wrote, "When news-dealers shout for class legislation, and decapitated reputations, headless trunks, and quivering hearts are held up before the rabble in exchange for money, place, and power, the vox populi is suffocated, individual rights are trodden under foot, and the car of the modern Inquisition rolls along the streets besmeared with blood."
She knew that people needed an unbiased, objective source for news that also included topics that elevate character and uplift the human race. The Christian Science Monitor international daily newspaper was the result. Its express mission is to 'injure no man, but to bless all mankind."
Mary Baker Eddy didn't despair and wring her hands over the state of things. She did something intended to bless everyone. She accepted no sense of limitation, and it was not at all about serving herself or her church. Even though the words "Christian Science" are in the newspaper's title, it is not at all a religious periodical - just straightforward, honest, balanced, fair, productive news.
All these years later, the Christian Science Monitor still has a solid reputation for high-quality news with the least bias, receiving numerous Pulitzer Prizes for its exceptional journalism. It has recently evolved into an award-winning online news source, with a weekly magazine. It is just as revolutionary in our day as it was in hers, since it is not owned by corporate money or political interests, and has a serious mandate for holding a high moral ground.
As long as individuals in our day respond to our challenges as effectively as Mrs. Eddy responded to hers, I think our country will be OK. We have options about where we get can get our news, and there are things within our own spheres of influence we each can do to contribute to our collective success and progress.
As a Christian Scientist, I have learned that true government is not about human will and dueling human interests competing for the upper hand. I have learned power is not about leadership by human ego and hubris.
In Christian Science, we learn that God is all-powerful, and we only have our own power as a byproduct of God. I believe God-given government and power are about sincere, humble service, and that is the only way any good is ever done.
I also believe that we get more of what we focus on, so I will not fixate with despair on the divisive yellow journalism of our own day. Instead, I am listening for ways I can serve this country - to help us get past this pivotal point and into something that radiates more of God's love and care for all.
Polly Castor is a Christian Science Practitioner and member of First Church of Christ, Scientist, in Ridgefield, CT. She can be reached at PollyCastor@gmail.com
---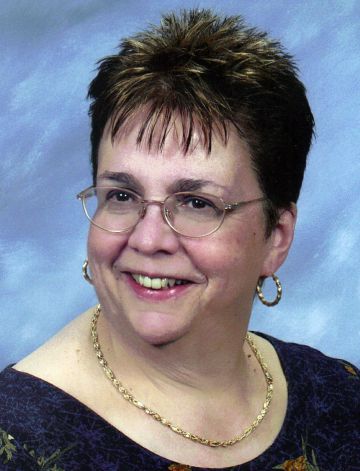 Jo Gabriele
FORUM ON FAITH
A diverse religious community provides light in the darkness.
by Jo Gabriele
Published: January 7, 2017
Danbury News Times
"A journey of a thousand miles begins with a single step" ~ Lao-tsu
This is the inspirational phrase that provided me the courage to embark on a year-long journey at this time last year. My goal was to define my personal spirituality and come to better understand my purpose in this lifetime. I hoped to take part in events that would allow me to learn more about the different faiths in my area, both Christian and non-Christian.
I consider myself to be a person of deep faith, which emanated from being born into and raised in the Roman Catholic Church. My belief in God is unwavering. He remains the Supreme Being to whom I pray - for hope in times of despair, forgiveness in times of sin, and comfort in times of tragedy.
That said, as I've aged, I've experienced a growing sense of restlessness. I was no longer leaving services with a direction or understanding of how to live my mortal life in preparation for my eternal life with God. I also struggled with some of the teachings of my faith.
So, in search of enlightenment, my journey began.
I am grateful for my decision 14 years ago to begin work for the Association of Religious Communities (ARC). After spending 34 years in the corporate world, I was inspired to move to the nonprofit sector. I wanted to spend the rest of my working life in service to all of God's children.
Now there is no doubt that this was the best decision of my life. I know I am where I am supposed to be. With my position at ARC, I have had many opportunities to learn about other faiths.
One of my responsibilities at ARC is being a community liaison, which has provided me amazing access to clergy and congregations in the Greater Danbury area. I've been given the privilege of attending services at various houses of faith and addressing congregations to talk about the various programs of ARC.
Perhaps the most rewarding part of my job is working with groups of youth (ranging in age from 5 to 18) and young adults. Through their associations with ARC, as well as their own congregations and civic groups, I have seen them developing a clear understanding of how simple acts of kindness can benefit those most in need in our community.
Through my journey, I've learned about general principles of Judaism; the five pillars of Islam; the seven principals of Unitarian Universalism; the eight steps to happiness of Buddhism; the nine beliefs of Hindu spirituality; as well as the evolution of various Protestant denominations and their current practices.
I've enjoyed the diversity of the services I've attended; and yes, sometimes even their informality. Ultimately, through them, I've been able to evolve and better understand my own spirituality.
Many denominations refer to their sacred house of worship as the "house of God." I know I have experienced that profound presence of God no matter what house of faith or service I've attended. I have come to understand that this feeling comes from the realization that God resides within me and is with me every moment of every day.
As 2016 was winding down, a colleague and friend invited me to attend a Christmas Eve service at the Unitarian Universalist Congregation of Danbury. In that service, there were readings from scripture and non-scripture, as well as music to celebrate the reason for the season. The shamash and first candle of the menorah were also lit to recognize the beginning of the eight-day Hanukkah celebration -- also known as the Festival of Lights.
Near the close of that service, all of the contributing readers were invited up to the front of the congregation. Each one lit a candle in recognition of a different religion, providing a short sentence explaining that religion's practices of bringing light into the world.
In that moment, I realized my year-long spiritual journey was complete. I was ready to reclaim my identity as a Christian, but now with a profound respect for the diversity of faiths that make up our community. I sensed that my purpose in this life was to represent light to help others out of the darkness.
Jo Gabriele, Association of Religious Communities (ARC). She can be reached at proassist@arcforpeace.org.
---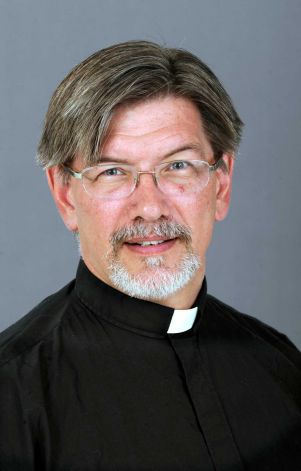 Fr. Luke Mihaly
FORUM ON FAITH
You can see God in all of the symbolism of Christmas.
by Fr. Luke Mihaly
Published: December 17, 2016
Danbury News Times
The divisions that we see in our country today reflect the kind of division that humanity has had since the fall of Adam and Eve in the Garden of Eden. Perhaps no one can put back together the broken pieces of our humanity - no politician, no ideology. But unlike the children's story of Humpty Dumpty where no one could put Humpty together again, I believe God is able to piece us back together.
To me, this is the story of Christmas: How God has put broken humanity back together again. The Christian God is a God who not only knows us but wants to be with us. The celebration of Christmas, then, is the celebration of the birth of a God who became human in order to be with us - but not to rule over us and control us.
As St. Paul wrote in his Letter to the Philippians, Jesus Christ did not think equality with God as something to be grasped; instead he emptied himself, taking the form of a servant (Philippians 2:6). The nativity stories teach us that God - transcendent, inconceivable, invisible, incomprehensible, unknowable - chose to be born a baby in Bethlehem.
I believe that by becoming human, God sanctifies every moment of life - from conception and birth all the way to death and eternal life. And so Christians understand God as someone who knows us very well, because God is one of us. To be conceived in a womb, to be born as a baby, to live and to die as a human being - through all this, God came among us to knit broken humanity back together again.
And so, for me, all the Christmas decorations we see at this time of year are not there to make us feel good, or to evoke nostalgic memories, but rather to remind us that God is here with us. The wreaths we put up are round to signify eternity; the evergreen branches that do not die in winter remind us of eternal life; red ribbons recall the blood of Christ, shed upon the cross, which saves us.
Christmas trees shaped like a triangle evoke the triune God: Father, Son and Holy Spirit. The star on the top is a reminder of the star of Bethlehem that led the way for the magi to find the Christ child. All the different light decorations are a reminder that God is the light of the world.
I love all the Christmas decorations because I look for God in them. Through the eyes of faith, I see Christ everywhere around me. From the beautiful and bedecked Rockefeller Christmas Tree in New York to the homes decorated with lights to all the stores looking for me to spend my money, I don't see sales - I see Christ. They help me see in Christmas not just a baby born in Bethlehem, but God with us, in human flesh.
I believe God calls us to love, to be in a free and loving relationship with God - God does not force us to submit, or to believe. Creating us in the divine image, we are given choice and free will. And so I choose to see Christ, and to see him everywhere.
Fr. Luke Mihaly, Holy Trinity Orthodox Church, 74 Joes Hill Road, Danbury, CT 06811. (203) 748-0671
---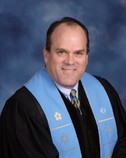 Rev. Matt Crebbin
FORUM ON FAITH
Let's ditch "happy holidays" and wish people "joy" instead.
by Rev. Matt Crebbin
Published: December 3, 2016
Danbury News Times
I know that there are those out there who have a problem with saying the phrase "Happy Holidays" at this time of year. For some, the problem is with the word "holidays." Holidays suggests something too generic for those who want the focus to be on Christmas at this time of year.
I actually have little concern about wishing people well during a season filled with all kinds of holidays. This is true especially since some of my dearest friends come from the Jewish, Muslim and Bahá'ì faiths - while other friends and neighbors profess no organized religious practice at all.
I wish everyone I know peace and hope during this season of holidays. That just happens to be one of prevailing understandings of my practice of Christianity. Because I believe that every person is created in the image of God, I want first and foremost for them to know renewal, wonder, well-being and love wherever they are on their life's journey.
So, my issue with the phrase - "Happy Holidays" is not with the word "Holidays" - it is with the word "Happy." The root of the word happiness is hap, which means "chance." It is the same root that we find in the words "happenstance" or "haphazard." In other words, you might infer that happiness depends upon things going our way.
We are "happy" when things are right in the world. We are happy when we have heath and security - when our bellies are full, and grief is but a fleeting melody played in some distant valley far away. To put it more bluntly: happiness is a crap shoot, a roll of the dice.
Living and serving in Newtown for the past nine years - and ministering to families in the midst of all kinds of circumstances for more than two and half decades - it is clear to me that happiness is fleeting and thin. It can melt away as easily as that first dusting of snow.
I don't want to wish people happiness during this season. I want to wish them JOY! I want them to know a joy that pulses in their veins. A joy that surrounds them with love and compassion and tenderness, even when there is no way on earth for them to find happiness in their current circumstances.
When trauma is real, and grief is raw, and there are still no words that can take away sorrow or pain, there is really one thing that is left - presence. In my Christian tradition, we tell the story that happened long ago, when a group of shepherds were disturbed by angelic hosts who brought good news of great JOY.
A child was born, and one of the names we continue to call him is Emmanuel - "God with us." My holiday faith story is a story about the holy becoming present, and vulnerable. I believe that it is a story that invites the same from me.
For me, joy comes from the awareness that I am being held by a presence that is greater than I can even imagine or put into words. Author Frederick Buechner puts it like this: "Joy is always all-encompassing; there is nothing of us left over to hate with or to be afraid with, to feel guilty with or to be selfish about," and "joy is a mystery because it can happen anywhere, anytime, even under the most unpromising circumstances, even in the midst of suffering, with tears in its eyes."
There are plenty of places in this world all too ready to offer joy's cheap and easily broken knock-off "happiness" (for the lowest of prices, with an easy payment plan). I'd like to think that most of us would really prefer to be in the business of Joy. So have a joyful holiday season one and all!
The Rev. Matt Crebbin is senior minister at the Newtown Congregational Church.
---