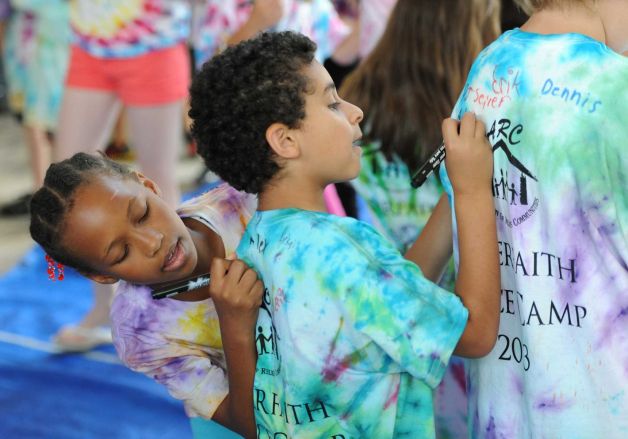 Peace Camp 2013
ARC's Interfaith Peace Camp.
10 years of teaching diversity.
Published July 21, 2013, Danbury News Times.
DANBURY -- The Interfaith Peace Camp celebrated its 10-year anniversary of teaching children 8 to 11 what peace means in different world religions.
The camp, which was created by the Rev. Phyllis J. "P.J." Leopold, aims to give children a greater understanding of and mutual respect for the differences and similarities that exist between the major world religions.
The weeklong camp takes campers to different religious sanctuaries each day. They visited the Unitarian Universalist Congregation, an Islamic mosque, and Native American grounds.
They spoke with a Buddhist monk and a rabbi from a local synagogue.
"The important thing about this camp is that the kids are learning about different cultures," said Suzanne Perry, a director.
"They learn how to respect others and understand them better."
The children also get to do normal camp activities. Projects done in arts-and-crafts time help reinforce themes they learned about during the day.
Leopold, executive director of the Association of Religious Communities, said she likes that the children take home their craft work, which will remind them of what they learned.
"It's very interesting how we got to learn about different religions," said Joshua Mohan, 10. "I know they have the saying you learn something new every day, but I didn't realize that actually happened like this."
The camp itself is multicultural, with campers representing different religious backgrounds. Perry thinks this is very important because the children learn from each other, as well as from religious officials.
"It's great that they get to learn in a very informed way these powerful concepts," Leopold said.
Leopold and Perry take great pride in the fact the children share their new understanding of different religions with their friends.
Leopold recalls a phone call from a local middle school principal who told her one of her former campers stopped the bullying of a young Muslim girl by telling his friends why she wore a hijab.
"I really like that we get to make new friends, and I like learning about the different religions," said Amelia McNeil-Maddox, 11, who added that her favorite was learning about Islam and how Muslims celebrate Ramadan.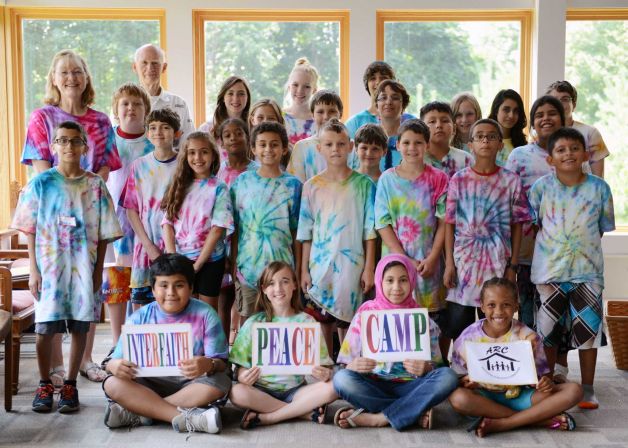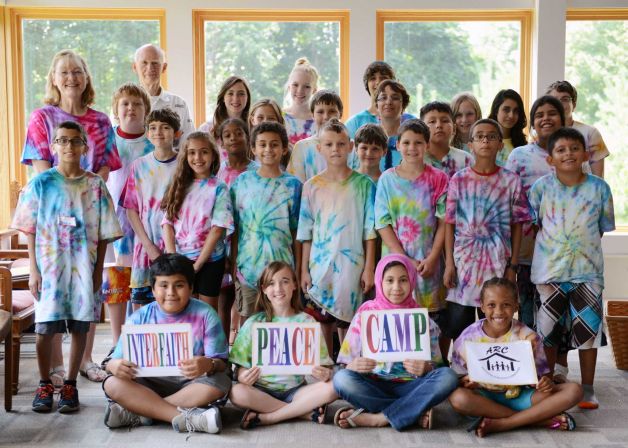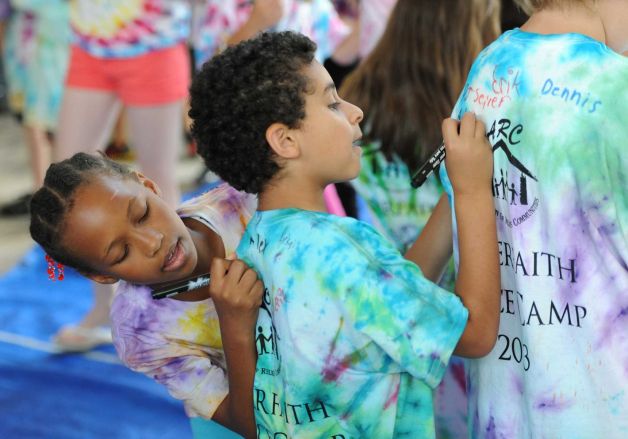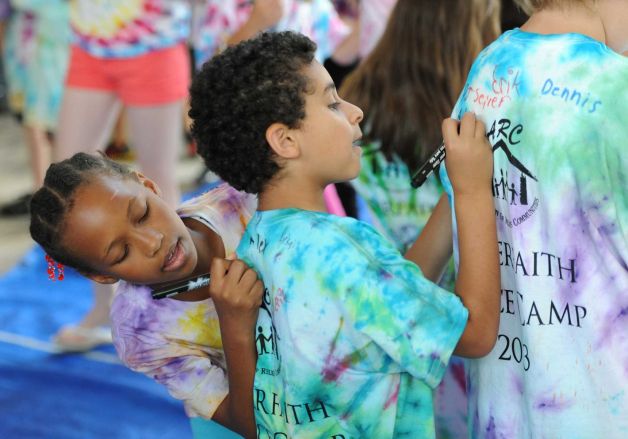 Danbury News Times, Sunday July 21, 2013












---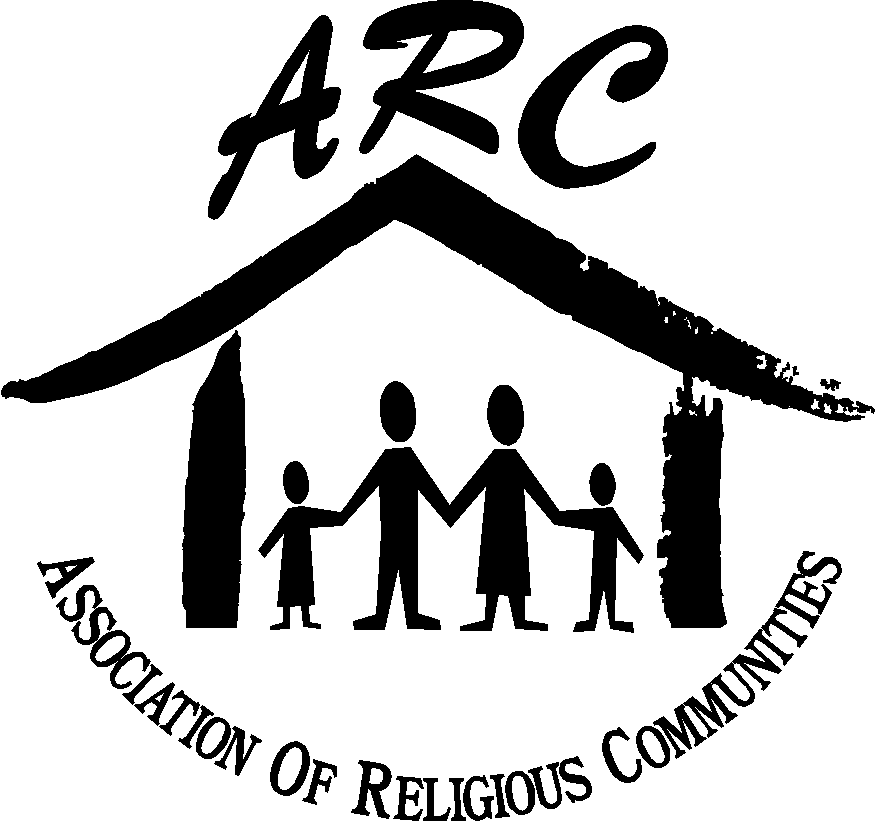 ARC STATEMENT OF CONCERN
Published September 22, 2012, Danbury News Times.
As individual members of ARC's Board of Directors representing people of many faiths in the Greater Danbury Area, we are deeply troubled by the current wave of bigotry and hate directed at Islam and Muslims in the United States.
We recognize that there is a wide range of strongly held views and emotions may run high but that is not tantamount to attacking a religious group. At the same time, there is a growing pattern of anti-mosque protests and other actions directed at American Muslims in many parts of the country that aim to demonize Islam in the name of protecting America from Muslim radicals and extremists.
We stand in united opposition to and condemn these attempts to vilify an entire religious community and affirm that such bigotry has no place in a nation committed to religious liberty for people of all faiths and none. Fear mongering, scapegoating, and intimidating a religious group does not protect our nation against the real threats that it faces, but rather threatens our pluralistic democracy that is a beacon to those who seek freedom from oppression. As a nation of immigrants, we continue to see our diversity as one of the great strengths of our country.
The Association of Religious Communities (ARC) continues to be a strong voice in the Danbury region reminding all who can hear the obligations we have as human beings to take up the mantle of religious living which begins to serve the ends which are in need of us. Let us not forget this vital work and let us stand united against all forms of hate and violence.


Presented by the Association of Religious Communities' Board of Directors
Rev. Angelo S. Arrando


President

Michael Marcus


Vice President

Willie Johnson


Treasurer

Jim Maurer


Secretary

Shazeeda Khan


Board Member

Rev. Pat Nicholas


Board Member

Joe Walkovich


Board Member

Rabbi Jon Haddon


Board Member

Ven. Wisdom Sakya


Board Member

Rev. Laura Westby


Board Member

Rev. Ann Coffman


Board Member



Rev. Phyllis J. Leopold,

Executive Director
Danbury News Times, Saturday September 22, 2012









---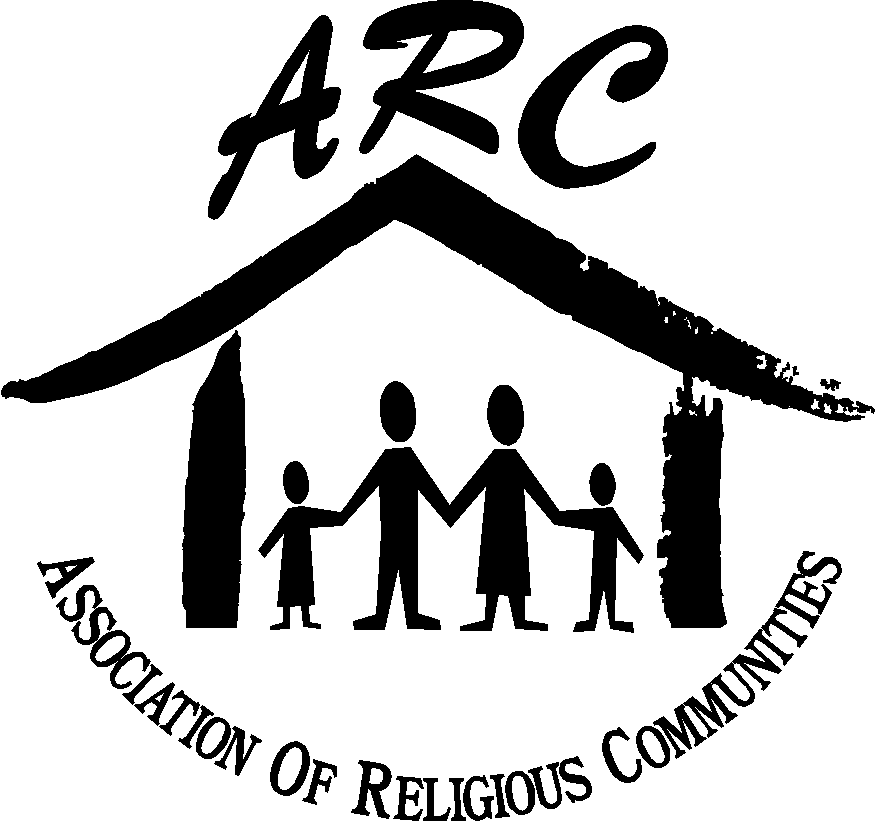 ARC STATEMENT OF CONCERN
Published March 27, 2011, Danbury News Times.
As individuals we believe people of faith are united in the conviction that the love of humankind is a paramount obligation for the religious person. So we are deeply troubled by anti-Muslim sentiments, as demonstrated over the last several months; people vandalizing mosques, a man in New York attacking a taxi cab driver because he was Muslim, and a minister threatening to burn Qurans on September 11th, continue to dominate headlines.
Most recently U.S. Representative Peter King's Committee began an investigation of the radicalization of Muslims in America. In so doing all Muslims can easily fall under suspicion. This kind of suspicion continues to strain the fabric of society. We believe it is not enough to condemn the twisted beliefs that would allow a person or a government to target any faith community, or to deplore the use of slurs and innuendos that continue to chill and terrorize. As a community we must create such a climate of openness and acceptance of religious and ethnic diversity that bigotry will find no place to breathe. If we will show it, our love for one another is powerful enough to overcome hatred and fear.
We believe that it is important to stand up for tolerance and understanding not only for Islam but for all faiths and for people of no faith, as well.


Presented by the Association of Religious Communities' Board of Directors
Rev. Angelo S. Arrando


President

Michael Marcus


Vice President

Bill Mc Williams


Treasurer

Jim Maurer


Secretary

Shazeeda Khan


Board Member

Rev. Joseph Krasinski


Board Member

Rev. Pat Nicholas


Board Member

Rev. Ivan Pitts


Board Member

Ven. Wisdom Sakya


Board Member

Rev. Laura Westby


Board Member

Rev. Ileana Velazquez


Board Member

Rev. Wilson Hernandez


Board Member

Rev. Phyllis J. Leopold,

Executive Director
Danbury News Times, Sunday March 27, 2011









---
Published October 10, 2011, Danbury News Times.
The Rev. Phyllis J. "P.J." Leopold will welcome the day when she won't need to sell decorated pumpkins at a fundraising breakfast to cover the cost of programs to treat domestic violence offenders.
For now, Leopold is willing to do whatever is needed to get the funding her agency, the Association of Religious Communities, requires to offer the prevention-oriented programs, which are less popular with donors than those aimed at victims.
At the agency's second annual "A Peaceable Home'' breakfast, held at the Amber Room Colonnade, Leopold told the crowd that eight years ago, when she became ARC's executive director, the agency offered just seven groups for domestic violence offenders, six of them for men.
Today, there are 24 such groups, part of three separate programs. They range from a 13.5-hour court-mandated intervention service to longer-term counseling that focuses on changing abusive behavior and attitudes.
Leopold noted that one of every three people in the programs today is a woman.
"The one-sided image of a man with a fist is changing,'' she said of the stereotype attached to domestic violence.
Leopold also wants to dispel the myth that domestic abuse cannot be cured. She said ARC's statistics indicate about 75 percent of clients who complete their programs do not repeat their offenses. This year, she said the number may be even higher.
But the cure requires the money for the services to be sustained.
ARC is the only agency in the greater Danbury area providing these programs, at an annual cost of $140,000. This year, it wants to get $50,000 of that amount through private donations and fundraising events. The breakfast was expected to earn about $16,000.
Leopold said she knows the programs can be a tough sell. Yet she and ARC board president, the Rev. Angelo Arrando of St. Gregory the Great Church say working with offenders is critical to ridding the society of in-home violence.
Unless treated, this violence can tear apart families, interfere in the workplace, disrupt education, and perpetuate family abuse in future generations.
"This is a community problem, not just a family problem. And it needs a community solution,'' Arrando said, and ARC programs have served some 20,000 households since 1986.
Guest speaker George Jepsen, the Democratic candidate for state attorney general, said more must be done to care for victims and abusers need more than incarceration.
ARC programs force offenders to be accountable rather than make excuses. The facilitators help clients examine what triggers their violent impulses and offer alternative behaviors and responses, he said.
ARC offers a model that stops abuse "one person at a time,'' Jepsen said.
Danbury News Times Article "A Peaceable Home"
Sunday, October 23, 2010
Nanci G. Hutson, Staff Writer
---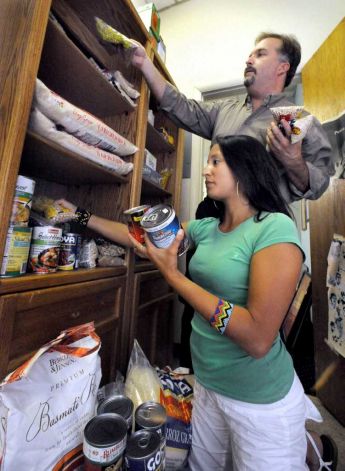 ARC Food Pantry
Food Ministries help through economic hardships.
Published September 26, 2010, Danbury News Times.
Elke Probst, the volunteer who created the Interfaith Food Pantry and Jeff Shaffer, volunteer coordinator, stock the shelves at the pantry in Danbury, Thursday, Sept. 23, 2010.
The Rev. Phyllis "P.J." Leopold, executive director of the Association of Religious Communities in Danbury, said the sting of this difficult economy prompted the unexpected opening of a small, interfaith food pantry this summer at ARC's Main Street agency.
ARC volunteers discovered people coming to the agency for emergency and housing services also expressed a need for help buying groceries.
So volunteers started bringing some staple supplies to the office. One of the volunteers donated a couple of cabinets, and by July 1, the cabinets were stocked full of canned goods.
Leopold figured there was enough food to last a few months. "I thought wrong,'' she said. "In less than two weeks, it was all gone.''
From July to September, the Interfaith Food Pantry -- it's open from 3-5 p.m. on Fridays -- provided food for 261 people, according to Leopold.
"It's one thing to read statistics about unemployment,'' Leopold said. "It's another thing to open a pantry.''
Perhaps most telling of all, Leopold said she sees no letup in the need anytime soon.
"Clearly, opening the Interfaith Food Pantry was the right thing to do,'' Leopold said, recognizing the efforts of those who quietly donate food and those who volunteer to distribute it each week.
"(It's) hard to grasp so many folks in our area are struggling with something as basic as food on the table. Not to mention, struggling to laugh or hold up their chin.''
The Rev. Frank Santora of Faith Church in New Milford has seen a new food ministry grow in his church as well. Angel Food Ministries is a program that allows families to buy fresh and frozen foods at reduced prices.
Other area churches have also become involved in food ministries, whether it's a food pantry or a program that allows people to buy fresh food at discount prices because parishioners and other community members need their help.
"We've really focused this year on providing people with practical ways to reduce the ongoing expenses in their lives,'' Santora said.
"When there is a prolonged recession, you can't carry people. But you can do little things along the way to give hope, and let them know that we feel their pain and that we're there to help them get to the other side.''
Photo: Michael Duffy / The News-Times
Nanci G. Hutson, Staff Writer
September 26, 2010: The Danbury News-Times.


---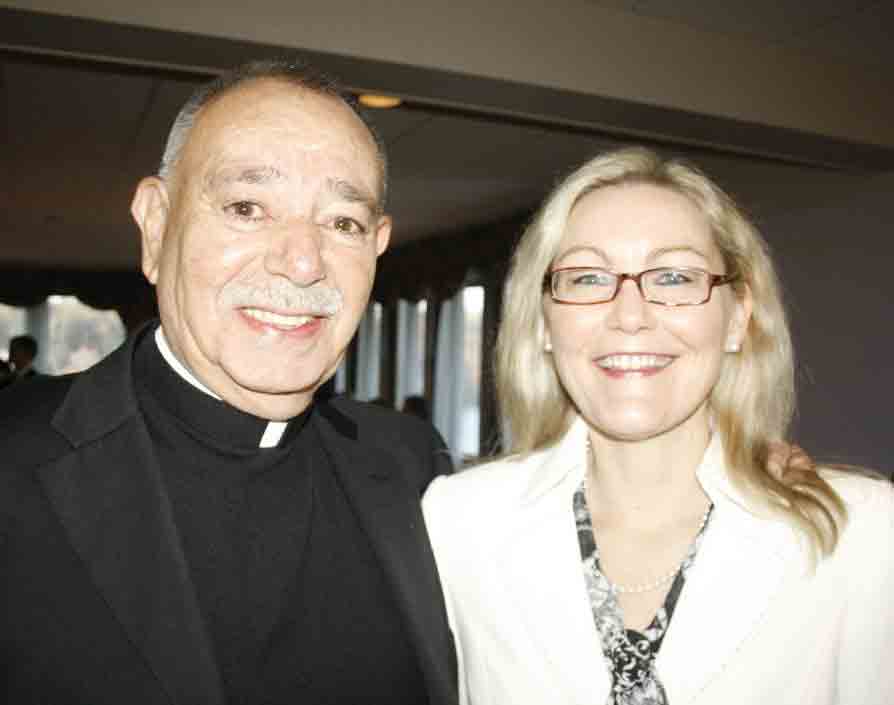 Rev. Angelo Arrando &
Rev. Phyllis J. Leopold
ARC calls for ban on bigotry,
not religion.
Published September 12, 2010, Danbury News Times.
The Association of Religious Communities (ARC) believes in the right of every religious group to exercise its faith free from legal, political, or eco- nomic restrictions. We condemn anti-Semite, anti-Muslim and anti-Christian attitudes and practices in both their overt and covert forms.
Committed to religious freedom and interfaith cooperation, we are deeply troubled by individuals and groups who identify themselves as "religious" while inciting religious bigotry, hate and xenophobia against all who are Muslim.
We regret that Muslim communities across the nation are facing one attack after another. We denounce the "religious" actions in Bridgeport, New York City, Tennessee, Illinois and California that include derisive and hateful propaganda, vandalism, harassment, and bigotry.
The tragedy of 9/11 has deeply affected all of us in more ways than we can express. We Americans, whether Muslim or Christian, whether Jew or Hindu, whether of faith or no faith, were all attacked on 9/11 by terrorists who can only be described as criminals.
People from many backgrounds were killed, including Muslim Americans who worked at or around the World Trade Center. We denounce the exploitation of the pain and suffering of 9/11 by political opportunists and "religious" extremists in their opposition to a proposed Islamic center and mosque near where the World Trade Center towers one stood.
We stand in support of individuals and groups who express their viewpoints without promoting hate or religious bigotry.
The rhetoric against Muslim Americans - namely, that they are a suspect community, or worse, enemies of the state; their religion is uncivilized and anti-American; they are deceitful; and they aim to destroy our culture and our Constitution - are replicas of attacks against other religious minorities in the past as well as current attacks against cultural and racial minorities.
In greater Danbury, the good will of the interfaith community does not play into, succumb to or sit back silently in the face of systematic hateful rhetoric of any kind, including hate grounded in "religious" superiority of any form.
Interfaith cooperation and religious freedom must prevail, not religious bigotry. Plurality of faith is a gift of unmerited grace to live, work, worship and learn from one another.
We call upon all people of faith and compassion, to join us in raising our voices for justice, peace and tolerance, which are the cry of the soul of all peoples of the world.
The Association of Religious Communities, Danbury, CT
The Rev. Phyllis J. Leopold, Executive Director
The Rev. Angelo S. Arrando, Board President
Danbury News Times Community Forum
Sunday, September 12, 2010
---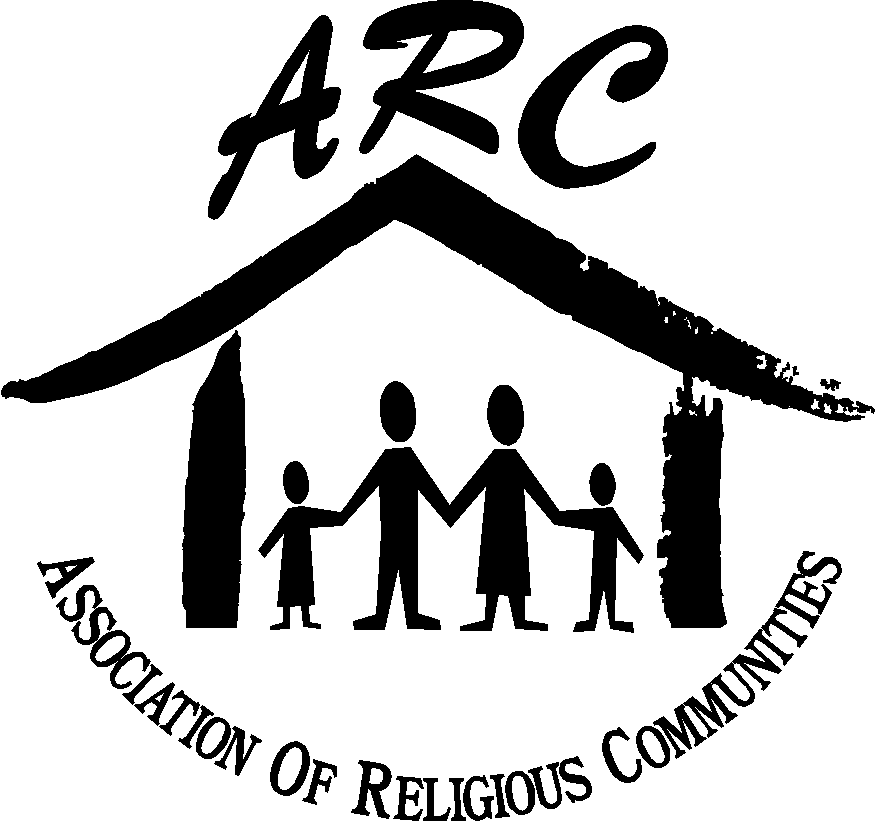 ARC SUPPORT OF TENNESSEE CHURCH
Published August 8, 2008, Danbury News Times.
DANBURY -- A group whose mission includes the alleviation of violence and suffering publicly expressed support for a Tennessee church recently hit by tragedy.
In a 7-by-5 inch ad in The News-Times Friday the Association of Religious Communities sympathized with the Tennessee Valley Unitarian Universalist church in Knoxville, where a gunman killed two people and wounded several others July 27.
ARC also praised the Tennessee church for its reaction to the tragedy.
"I was really motivated and touched by the way they responded to hate with love," the Rev. Phyllis J. Leopold, ARC executive director, said. "They remained with their mission. They are going to remain a congregation that's open to all people."
Unitarian Universalist churches are known for their liberal views and for reaching out to all members of a community. The man who police say opened fire in the Tennessee church, 58-year-old Jim David Adkisson, allegedly was angry at liberals and gays and has an ex-wife who was a member of the church.
The Tennessee church responded with vigils and "rededicated their sanctuary to peace," according to the Unitarian Universalist Association of Congregations in a full-page ad in Sunday's New York Times. The association, an umbrella group for Unitarian Universalist churches in this country, says it is "standing on the side of love" in the face of the tragedy and invites others to stand with the group.
Adkisson allegedly came into the church with a shotgun on a Sunday morning just before young people in the church were to begin a performance. A man and woman were killed and other adults wounded before congregation members brought the gunman to the ground.
Danbury has a Unitarian Universalist Church on Clapboard Ridge Road where congregants in May overwhelmingly voted to join the New Sanctuary Movement. The movement works for immigrant rights and assists immigrants who are facing deportation, particularly those who could be separated from their American-born children.
"I don't believe there's any specific threat to our congregation," Carl Tichler, president of the Danbury church's board of trustees, said about the recent violence in Tennessee. "It seems to be an isolated incident."
Several congregants, though, asked about the church's security procedures, he said. "We do look at our safety precautions. We reviewed and made sure they were up-to-date."
Tichler called the Tennessee incident "very sad" and said Danbury church members sympathized with their fellow church congregants in Tennessee. "We extend all of our thoughts and prayers out to them."
In The News-Times ad taken out by ARC on Friday, the organization says "We encourage people of good will to pray, meditate and show support" for those in the Tennessee church. "ARC stands in opposition to all hatred and hate-crimes."
Leopold said ARC was founded more than 35 years ago. The organization includes religious groups of many faiths, including Christian, Jewish, Muslim and Buddhist, and its mission statement is "to alleviate the causes of violence, suffering and hate while advancing peace, justice and human dignity."
Funding for the nonprofit organization, Leopold and ARC board of directors vice president Michael Marcus said, comes from private and public funds. On the private side, ARC members make pledges and people in the community make donations.
For certain programs like Dream Homes, which is part of the city of Danbury's plan to end homelessness in 10 years, ARC receives funds to oversee and administer the program.
In an April Danbury Common Council subcommittee meeting about funding nonprofits, questions were raised about an ad ARC ran in February expressing concerns about a Danbury Police Department partnership with federal immigration authorities.
Leopold explained to committee members that the money for the ad came from an anonymous donor and public funds were not used.
In the ad ARC ran Friday supporting the Tennessee church, the organization said it made a financial contribution to the Knoxville Relief Fund "to bring ministry, spiritual care and practical financial assistance to those affected by the tragedy."
The money for the donation, Leopold and Marcus said, came from ARC's private funds, part of which include an emergency relief fund. Leopold said she didn't "feel at liberty" to disclose the amount of the donation but stressed it was from privately collected funds.
Marcus said the ad and donation will hopefully send a message to others about the Tennessee incident. The Tennessee church, he said, "was grievously wronged and it was important for us to show a position of solidarity and sympathy. We would hope that all people would do so."
Contact Marietta Homayonpour at mhomayonpour@newstimes.com or at
(203) 731-3336.
---